&copy 2002 Meilin Wong
Level
1
2
3
4
5
6
7
8
9
10
11
12
13
14
15
16
17
18
19
20


Base Attack
+0
+1
+1
+2
+2
+3
+3
+4
+4
+5
+5
+6
+6
+7
+7
+8
+8
+9
+9
+10


Fort Save
+0
+0
+1
+1
+1
+2
+2
+2
+3
+3
+3
+4
+4
+4
+5
+5
+5
+6
+6
+6


Ref Save
+0
+0
+1
+1
+1
+2
+2
+2
+3
+3
+3
+4
+4
+4
+5
+5
+5
+6
+6
+6


Will Save
+2
+3
+3
+4
+4
+5
+5
+6
+6
+7
+7
+8
+8
+9
+9
+10
+10
+11
+11
+12


Special
Familiar




















Spell Points Per Day
Level
1
2
3
4
5
6
7
8
9
10
11
12
13
14
15
16
17
18
19
20


Points
3
4
5
15
18
36
44
70
82
116
132
174
194
244
255
326
354
420
452
486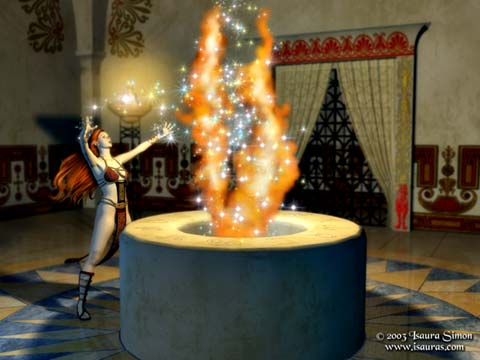 &copy2004 Isaura Simon
Spells Known
Level
1
2
3
4
5
6
7
8
9
10
11
12
13
14
15
16
17
18
19
20


0
4
5
5
6
6
7
7
8
8
9
9
9
9
9
9
9
9
9
9
9


1st
2
2
3
3
4
4
5
5
5
5
5
5
5
5
5
5
5
5
5
5


2nd
-
-
-
1
2
2
3
3
4
4
5
5
5
5
5
5
5
5
5
5


3rd
-
-
-
-
-
1
2
2
3
3
4
4
4
4
4
4
4
4
4
4


4th
-
-
-
-
-
-
-
1
2
2
3
3
4
4
4
4
4
4
4
4


5th
-
-
-
-
-
-
-
-
-
1
2
2
3
3
4
4
4
4
4
4


6th
-
-
-
-
-
-
-
-
-
-
-
1
2
2
3
3
3
3
3
3


7th
-
-
-
-
-
-
-
-
-
-
-
-
-
1
2
2
3
3
3
3


8th
-
-
-
-
-
-
-
-
-
-
-
-
-
-
-
1
2
2
3
3


9th
-
-
-
-
-
-
-
-
-
-
-
-
-
-
-
-
-
1
2
3

Key STATS: Charisma, Dexterity, Constitution
Alignment: Any
Hit Die: d4
Class Skills: Bluff, Concentration, Craft, Knowledge(Arcana), Profession, Spellcraft
Starting Skill Points: (2 + INT modifier) x 4
Points/Additional Level: 2 + INT modifier
Class Features:
Weapon and Armor Proficiencies
Sorcerers are proficient with all simple weapons. They are not proficient with any type of armor, nor with shields.
WEAPON GROUP ALTERNATIVE: Basic Weapons plus either spears or crossbows.

Spells
A sorcerer has access to arcane spells, the same type available to wizards. However, there are two key differences of note. First off, the sorcerer has access to a limited number of spells that they can have in their repetoire, as seen on the chart above. Second, sorcerers cast spells as if they were spell-like abilities for most intents and purposes. The one exception is that if any of your chosen spells known has an XP cost, you must still pay it as normal.
Sorcerers gain a set number of spell points per day with which to utilize their spells/spell-like abilities. They also gain an additional amount of spell points to cast per day based off of your Charisma.
To learn or cast a spell, you must have a Charisma of at least 10 + the spells level. The difficulty for saving throws against sorcerer spells is 10 + the spells level + the sorcerers Charisma modifier.

Familiar
At any time in your career, you may call a Familiar, a magical animal of some type. To do so takes one day, and 100 gp worth of materials. You may choose the type of familiar that you call, and as you increase in power so does your familiar. If the familiar should ever die or you choose to dismiss it, you must attempt a Fortitude save (DC 15). If the saving throw fails, you lose 200 experience points per class level. A successful saving throw reduce the loss to half that amount. Your total can never go below 0 as a result of this happening. A slain or dismissed familiar cannot be replaced for at least a year and a day. Slain familiars can be raised from the dead just as characters can be, but they do not lose a level or Constitution point when this happens. To choose a familiar, refer to the chart on p.51 of the 3E Players Handbook, or Tome and Blood.
Page Last Updated March 3rd, 2005

AFFILIATE & EXCHANGE PROGRAM

©1998-2013 All rights reserved The Roleplay Nexus.
The domain name http://www.roleplaynexus.com and all its subdirectories [Descent Into Darkness - Drow Campaign of the Forgotten Realms, Zartenoth - Land of the Coming Storm, Storm Riders of Zartenoth] belong to Lisa Lassiter and all are protected by federal laws. Any duplication in part or in full, without written consent is a violation of these laws. The visuals, such as graphics, backgrounds and music have their own Copyrights and were free to use with permission.
The majority of the d20 material gathered and contained within are property and copyrighted to various roleplay companies such as Wizards of the Coast, which is a Hasbro&reg owned company with its own Terms & Conditions to follow (see the Open Gaming License). Any pictures not specifically stating otherwise are property of Lisa Lassiter, having been commissioned by various artists. The artists hold the respective copyrights in most cases, and you need both the express written permission of ourselves and the artist in question to use such graphics. If you wish to use any information on this site (that we have deemed of our own creation as opposed to Open Gaming Material and material otherwise copyrighted to someone else) please contact the webmasters and all respective creditors mentioned in this statement. Thank you.
This is a non-profit site, and commercial use is prohibited.